I'm not sure it really counts as redecorating to decide, after many years, what to do with an area of the house that never was properly decorated in the first place. Whatever it might be called, however, I feel pretty good about finally taking care of it; so I'm writing an entry here to celebrate this small accomplishment.
My kitchen has a bay window, with wooden shelves on both sides. When I moved in, I wasn't sure how to decorate the shelves, so I just put some pretty ceramic mugs on them. I expected that something else would come to mind after a while.
Of course, we all know what happens when we put things somewhere for "a while." We get used to seeing them in that place, and subconsciously we feel it's where they belong. So, after I put the mugs on the shelves, there they stayed. They weren't being used and just sat there for years and years, gathering dust. Sometimes I noticed that the window area looked boring, but I never could think of what else to put there.
Then last week it occurred to me—this is a kitchen, for goodness' sake. Kitchen shelves are for food, not for dusty old junk. So I took down the mugs, put them in a bag for the thrift store, dusted the shelves, and filled them with jars and boxes of tasty-looking food. On the top shelves, which I needed a ladder to reach, I put mini pumpkins as a symbol of the harvest season.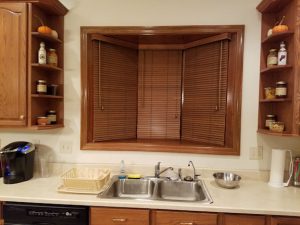 Even though this doesn't really qualify as interior decorating, but is just ordinary food that will eventually get eaten and replaced with something else on the shelf, my kitchen looks so much brighter and happier now. I can feel the cheerful energy moving through it, replacing the feelings of stagnation that used to be there.
It's a totally free improvement, too, assuming the food does all get eaten and none of it goes to waste. Now, when I step into the kitchen and see how much better it looks, I'm left wondering what else in my life could be improved just as easily!