My daughter trained her dog to ring bells as a signal that the dog needed to go outside. The bells hung from the handle of the sliding glass door in the kitchen. The dog learned how to go to the door and push the bells with her snout to ring them, but there was one small problem: We always had to leave the vertical blinds open, at least enough that the bells were not covered up. And on cold winter nights, that made the kitchen drafty. So my husband moved the bells to the wall next to the door.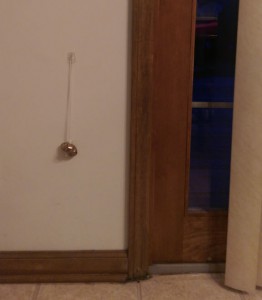 To us, the bells looked close enough that they were almost in the same place. But a dog's brain evidently has a harder time processing what to do with objects that have been moved, and the dog never rang the bells again. Now she just barks at us when she wants to go out. So the bells have been hanging on the wall since the winter, completely useless. We finally decided it's time to bid them farewell!
About Clutter Comedy: Every Sunday (which I envision as a day of rest after a productive week of de-cluttering) I post a Clutter Comedy article describing my most memorable clutter discovery of the week. Other bloggers who wish to join in are welcome—just post a link in the comments! There's no need to publish any "before" photos of your clutter, if they are too embarrassing. The idea is simply to get motivated to clean it up, while having a bit of fun too!