After I left Peter at the pond skimming stones in a previous post, I walked up to Channelwood's well-tended orchards. I found Ella and Sara, in bonnets and long gingham dresses as usual, busily picking apricots. They already had filled two large baskets, and I helped them to fill another. We picked up the full baskets and carried them to a small drying shed near the kitchen outbuilding.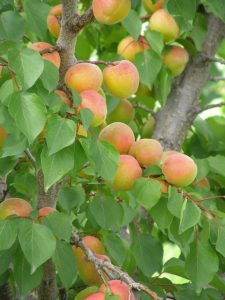 (Photo credit: Malcolm Manners)
Queenie, who had been pitting apricots and laying them out on drying racks, put down her knife and wiped her hands. I set down my basket in the shade next to the shed, where a stack of empty baskets stood next to a full one.
Sara put her basket next to mine before turning to smile at me. "I love dried apricots, don't you? And I love picking them on a beautiful sunny day like this. When it's dark in the winter, they look like tiny bits of sunshine saved to make us happy."
"Yes, I do too," I agreed, now feeling more cheerful myself after just a few minutes in the presence of Sara's boundless enthusiasm. "And I want to thank you girls for generously giving Peter a home and taking such good care of him. I spent a little time with him at the pond, and he looks happy and well."
"We're glad to do it," Sara immediately replied. "Peter is a dear child."
"No trouble in the least," Ella chimed in. "Although Peter often acts without thinking—and that's only to be expected of a five-year-old, after all—he has good intentions and a kind heart."
I glanced toward Queenie, who was standing silently next to the other girls and had not yet spoken. Staring at the wall of the shed, apparently lost in her own thoughts, she said softly, "I wish…"
Sara, always perceptive and empathetic, turned toward Queenie right away and assured her, "And you're a dear too, Queenie, of course."
Picking up empty baskets, Ella and Sara set off toward the orchard again. Ella walked sedately, but Sara's bouncy gait made clear that she was skipping through the meadow, her long dress billowing behind her.
Queenie picked up her knife and went back to pitting apricots, flinging the pits with unnecessary vigor into a sack at her feet.
"I know that there's no good reason for me to feel slighted," she said, half to me and half to the wall. "When I was a child I wasn't neglected. I always had plenty of food, clothing, and whatever I needed. And of course, Ella and Sara had much harder lives; they both lost their mothers when they were little. I can't even imagine how awful that must have been. So I've had it easy, and I just need to count my blessings and be grateful. You don't have to tell me that."
"I wasn't going to," I answered. "Your feelings are real. Where they came from doesn't make them any less real, and denying or minimizing them won't make them go away. Acknowledge them, Queenie, however you must—and then take a few minutes to go out and skip in the sunshine."