Humans, by nature, are a social species. We rely on others for so much in our everyday lives; but all too often, we take that for granted. When we get overloaded with responsibilities and to-do lists, we may feel obligated to do everything ourselves, without expecting help. If that goes on too long, we start to take pride in being so tough we don't need anything from others. That's when a major shift in perspective is needed.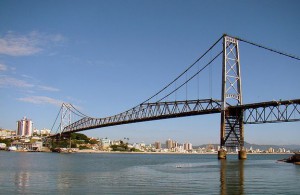 (Creative Commons image via flickr)
A suspension bridge is a masterpiece of engineering—a complex arrangement of trusses, cables, and towers, all perfectly aligned. But if we're preoccupied with the traffic and our errands, we might not even notice what's holding us safely above the water. As for the city in the distance and the world beyond, we rely on them to supply all our needs. In the modern age, our food, water, shelter, and clothing all come through the work of others. Being tough and self-sufficient is just a story we tell ourselves! We'd do much better to consider all the ways we are supported as we go through life, and to cultivate gratitude for them.
Nurturing Thursday was started by Becca Givens and seeks to "give this planet a much needed shot of fun, support and positive energy." Visit her site to find more Nurturing Thursday posts and a list of frequent contributors.