A very happy New Year to everyone, full of wonderful wishes that come true! I began setting my intentions for 2015 way back in October, when I bought a fairy figurine (shown in this post) as a symbol of releasing my dreams to fly free in beauty. I didn't have a word or a New Year's resolution in mind until Christmas, though, when one of my presents turned out to be a new toaster.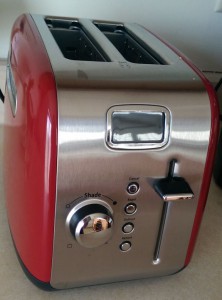 A toaster certainly doesn't need to have bright red side panels and a display screen that shows the settings and the time remaining. It's just more fun that way! And the plain old toaster it replaced was still working just fine, as good as new—but "new" was 1986, when loaves of bread were narrower and people wouldn't even have thought about putting a bagel in a toaster. I had been putting slices of wide bread in the old one sideways and toasting bagels in the oven.
So I decided that the new toaster would be my visual reminder that the world is full of fun stuff to enjoy, and that it's perfectly fine to replace things even if they are not worn out! My New Year's resolution is simply to say "Yay!" every morning when I go into the kitchen and see the toaster. (Not out loud though, as that would be a bit much to expect my husband to deal with!)
Because saying "Yay!" to a toaster is so silly, it will make me smile and laugh, which is a good healthy way to start the day. And my word of intention for 2015, meant to bring positive energy and to celebrate abundance, is also Yay!
Nurturing Thursday was started by Becca Givens and seeks to "give this planet a much needed shot of fun, support and positive energy." Visit her site to find more Nurturing Thursday posts and a list of frequent contributors.