Although I usually give at least some forethought to choosing new plants, I impulsively bought a gardenia while doing my grocery shopping in March, which left me wondering if the bitterly cold winter had deprived me of all common sense. I just wanted something new and green!  After getting home and belatedly realizing that I had no clue what to do with the gardenia, I put it in my kitchen until the weather finally turned warm enough to put it outside. Only then did I start thinking about where it might go.  The front porch wouldn't do—too shady. I bought a pot with a "Welcome" message, but was still pondering where to put the plant after I repotted it. Had I foolishly bought something for which I had no use? Thankfully, my husband came to the rescue by suggesting that it would look good outside the garage.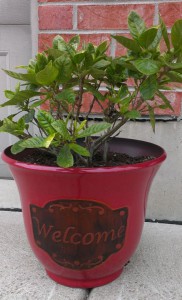 We never had a plant in that spot before; but it seems to be doing fine there, and I like being greeted by the cheerful message on the pot when I pull into the driveway. Even though it's just a simple, ordinary little thing, it gives a pleasant and comfortable feeling to coming home. That moment of impulsive shopping turned out for the best after all.  I try to avoid randomly buying stuff just because it looks pretty, as that's how the house ends up full of clutter; but there's also something to be said for buying occasional small items to brighten up one's home and life.
Nurturing Thursday was started by Becca Givens and seeks to "give this planet a much needed shot of fun, support and positive energy." Visit her site to find more Nurturing Thursday posts and a list of frequent contributors.