Over Labor Day weekend, my husband and I did not go on an exciting vacation. Instead, we spent much of the weekend doing yard work. Even though I wrote a blog post last year about why it would be good to think of gardening as play, like a child would, there was so much to do that I wasn't having any success whatsoever in not thinking of it as work.
My poor sad backyard willows, which do best in cool rainy weather and have been dying back for the past few years because of hot and dry summers, had a lot more dead branches this summer. That was kind of depressing, and I didn't even want to look at them anymore. Usually it's my chore to do the pruning with a hand saw, but it felt like too much to deal with, and I didn't get to it over the summer.
Thankfully, my husband came to the rescue and bought a pole-saw attachment for his trimmer, which made short work of the dead branches on Saturday. We stacked them in the side yard, rented a big utility trailer on Sunday afternoon, and piled it full of dead branches to take to the county dump, which had holiday hours on Monday morning. We had time to go rowing afterward, though we made no effort to row fast.
The backyard looks much better now, and I'm glad that we took the time to clean things up, even though it wasn't fun. Because the long weekend was so notably lacking in adventures, I put a colorful image of waterfalls on my art display today.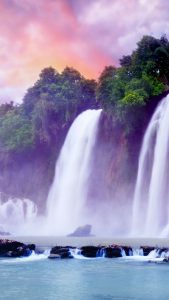 I have no idea where that picture came from or if it's a real place, but it does look like somewhere that would be fun to explore while on vacation.