What does it mean to deserve?
Today's culture is always telling us that we deserve more. Advertisers deluge us with images of shiny new products, declaring that we should indulge because we've earned it. Self-help authors say that we can attract great success by repeating affirmations along the lines of "I deserve to be happy" or "Next year I'm going to earn X amount of money because I am worth it."
While that's better than going around with our heads full of negative messages about not being good enough, it still leaves us measuring our worth against what other people have. Because deserving has to do with merit, if one person deserves something and gets it, then by implication others who don't have it are not as deserving. Maybe they didn't work as hard or couldn't stay focused on those happy thoughts. From there it's just a short step to believing that if someone is poor, unhappy, or sick, it must be their own fault.
Nobody ever wins that blame game, though. It doesn't matter how many new cars we have in the garage, how well our investments are performing, or how healthy and happy we feel at the moment. Simply put, there is no way anyone can go through life always having more health, wealth, and happiness than the other seven billion people in the world. So if we've got the attitude that those who have less are to blame for their own misfortunes, then we naturally end up blaming ourselves for not being as rich and famous as those who have more—and there are always plenty of billionaires and celebrities in the news to make us feel undeserving, if we're so inclined.
Who needs all that judgmental drama? We'd do better to take the concept of deserving back to its roots—to the original Latin word meaning "serve." Historically, a deserving person was a good servant. Earning money had nothing to do with it—most servants earned little more than their keep, and many were slaves. Deserving, in its original root meaning, was about being loyal to one's master and devoted to one's work.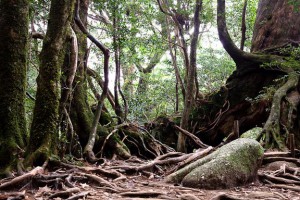 (Creative Commons image via flickr)
Although we no longer live in a world of masters and servants, we still spend much of our time serving others. Whether it's by working for wages, owning a small business, caring for our family members, creating beautiful art, or volunteering with a charity after retirement, there are many ways to be a good servant. Giving our work to others is in our nature as human beings, as members of a social species. That's how we create meaningful accomplishments and leave the world a better place for having been part of it.
Money measures something else entirely. In a capitalist system, money is supposed to be a means of efficiently allocating resources. When sales of a product or service increase, more people invest in it. Some of the profits go toward developing more advanced technologies; then new industries emerge and create jobs, more people can afford to buy products and invest, and the economy keeps on expanding. Of course, it's not always as efficient as it could be; but that is generally how it functions.
Most investors, with the notable exception of socially-conscious funds, couldn't care less about whether a company's goods provide a benefit to humanity. They just want quick profits. A company may have a wonderfully innovative product that would solve many of the world's problems; but unless enough buyers can be found at a high enough profit margin, nobody's going to invest in it just because it is deserving in the abstract. The free market is not about making moral judgments and rewarding those who have faith in their products; it is only about getting bottom-line results.
Doing our work with passion and love—being good servants—is not measurable in terms of money or fame. All other things being equal, a passionate worker would make a better impression on people and would be more successful in the conventional sense. But of course, all other things are never equal. We live in a very complicated world where unexpected stuff happens all the time, so why blame ourselves or anyone else for not reaching some arbitrary level of success? When we stay focused on doing our work of service, other things will fall into place in due course.