Because it has been unusually warm this week, my husband and I decided to go rowing yesterday. We hadn't gone out since November, and we'd been looking forward to another enjoyable season with our rowing club. Summer and its long sunny days seemed right around the corner!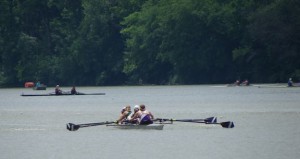 The forecast called for occasional light showers, though, and when we got to the boathouse there wasn't anyone else around. Then the rain started coming down harder, and an updated forecast showed more of it blowing in. But since we were already there, we decided to go for a short row anyway. It was good to get out and enjoy nature, even with a little rain!
Nurturing Thursday was started by Becca Givens and seeks to "give this planet a much needed shot of fun, support and positive energy." Visit her site to find more Nurturing Thursday posts and a list of frequent contributors.