Last week, after I went to the optical shop and ordered new glasses, it occurred to me that this was the first time I'd ever bought new glasses when my prescription hadn't changed significantly. My current glasses are three years old, a bit scratched, and have sparkly decorative dots at the corners that are starting to fall off, as shown in this photo: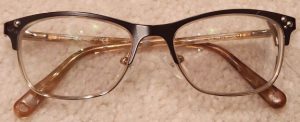 I can still see reasonably well with them, however, and in past years I would have kept wearing them because of frugality—or perhaps more accurately, because of a failure of imagination. Replacing glasses that weren't broken and didn't yet need to be replaced was an extravagance that never crossed my mind. After all, glasses were expensive and always had been.
That, in turn, got me thinking about some of my past conversations and blog posts about automation, jobs, falling birthrates, and consumer demand. I have to admit I'm a bit leery of making predictions after I wrote an overly optimistic post last year anticipating that stocks would keep going up because the pandemic hadn't put an end to the party, so what would? Obviously, I didn't foresee that the Russians would come close to starting World War Three, which was more than enough to snarl supply chains and rattle the markets.
Still, I'd say it is a fairly safe bet that consumers will always find something more they want to buy, so the economy isn't likely to grind to a halt a few decades from now, when the world has fewer people and most of today's jobs have been automated. Instead, I expect many of us will be working in careers we never imagined and buying stuff we never thought we might want.
In a wealthier economy, I might have ordered several pairs of glasses in different colors and styles. I can imagine that becoming just as ordinary as having several pairs of shoes. Of course, when shoes were made by hand a few centuries ago, people would have thought it was wildly extravagant to buy more shoes than they needed. And so it goes…