My husband and I went to Chicago over the weekend for a half-marathon row. Although we've done half-marathon road races before, this was our first time rowing that distance. With younger and faster competition, we were mainly just sightseeing rather than contending, but rowing through downtown Chicago was a sight well worth seeing. Here's a photo that I found online, taken a few years ago: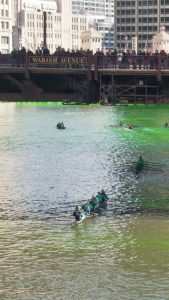 (Photo credit: vxla)
I lost count of the bridges we rowed under—there were so many. At first the weather was pleasantly cool, but then a rainstorm blew in, and we still had a long way to go. The boat had a lot of water sloshing around in it by the time we got back to the dock. Other than a few blisters on my hands and a sore rear end from sitting in the boat for so long, I was no worse for the wear. After changing into dry clothes and getting coffee and a bagel, I felt pretty good.
We could've done without the adventures of Chicago traffic on the way home, though. There was one tollbooth that took almost half an hour to get through because some drivers didn't feel like waiting in four clearly marked lanes, so instead they formed five lanes and jockeyed for position while rolling down windows and yelling at each other. We noticed a car with the license plate "PRVRBS29," which definitely suited the circumstances.
Because of the tollbooth delay, we got stuck driving in the rainstorm most of the way home, rather than being out in front of it. That was okay, though, because we got ahead of the storm enough so that we had time to stop at our club's boathouse, take the boat off the SUV's roof, and wash it and put it away before the rain caught up with us again, just before we got back to our house.