This past week has been unseasonably chilly for May, and too much rain made the river unrowable for days, so I've mainly been sitting indoors and trying to shake off grumpy feelings. After looking out the window at another dark and cloudy morning, I put a view of a forest trail on my art display today, with sunlight softly filtering through the trees.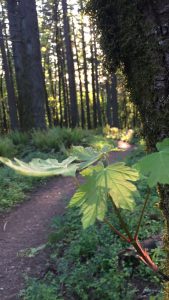 Such a peaceful scene! But however much I tried, I couldn't quite manage to convince myself that I was really just about to go for a nice long walk in the forest on a warm sunny day. The sky was still just as dark after work, and I finally got off my rear end and ran around the block a few times, just to get some fresh air even if there wasn't any sun to be found.
Without the chilly wind that we'd had for the past few days, it actually felt pretty comfortable; and then two women driving by in a big SUV stopped to compliment me for being in shape. By the time I got back home, I was more cheerful than I'd felt earlier. I walked past the art display again and—just for a moment—almost caught myself thinking the sunlight was real.