Ever since Fannie, my imaginary 119-year-old future self, suggested a few months ago that I might want to invite the archetypal Crone to play tennis, I had been turning that idea over in my mind. It made sense on a basic narrative level—if I wanted to explore possibilities other than the usual negative beliefs about aging, then I needed to be more creative in how I pictured older people. That included expecting the Crone to do more than just sit and tell stories, as in my previous post about her last winter.
Tennis didn't work, though, for several reasons. First, I never played the sport or had much interest in it, and an imaginary outing where I bumbled around cluelessly on the tennis court didn't hold much appeal. Of course, I didn't have to be as realistic as that; but I didn't want to be the Crone's opponent in a sporting event anyway, or even her doubles partner, which would carry another well-defined set of adversarial socially-scripted baggage about pushing one's body to the limit and always competing to excel over others. I really did just want the Crone to tell me stories, but without the typical cultural strings attached.
So, after I recently spent some time browsing through winter landscape scenes and imagining myself (as I mentioned here) on a snowy forest adventure, I decided to invite the Crone to be my companion on a mountain-climbing trip. That would be active enough to dispel the old-woman stereotypes, but we wouldn't be opponents in anything, and there would be plenty of time for insightful conversation. I've never been a mountain climber in real life either, but that was okay—a hiking trail along a mountainside, without need for rock-climbing gear, would be sufficient.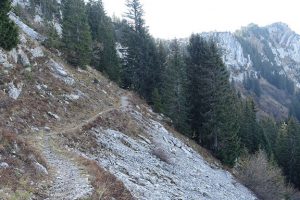 (Creative Commons image via flickr)
The crisp mountain air carried the scent of pine trees and snow. The wind was just right—enough of a breeze so that the Crone and I wouldn't overheat as we hiked up the trail in our heavy winter gear, but it wasn't blowing hard enough to make us want to pull our scarves up over our faces.
"Oh look, just over there!" exclaimed the Crone, as we went around a curve dotted by rocks and small bushes. I didn't see much of anything else, but the Crone sounded quite excited indeed. She bustled over to a spot of green in the shelter of two rocks, where glossy leaves and a few bright berries could be seen poking up through the winter's debris.
"It's just another wildflower nowadays," she explained, lovingly brushing away twigs and snow to give me a better view. "But long ago, skilled herbalists would have come out looking for this and other healing plants, even in winter. Many of them were older women, you know. They brought apprentices on mountain hikes very much like this, pointing out where the medicinal herbs could be found and how to recognize them."
After carefully replacing the small twigs and dry leaves that protected the plant from the cold air, my companion stood up and went back to the trail. We continued around another bend, winding between several thick pines, while I considered the message in this little interlude.
"It's just a myth, then, that old women didn't do much but sit by the fire and tell stories," I said after a minute or so, as I took a few quick steps to catch up to the Crone. She had gotten ahead of me while I was preoccupied with my thoughts, and she walked with plenty of vigor.
"Life was much harder in those days," the Crone noted in a reflective tone, as if describing her own past. She slowed her stride a little. "Every pair of hands was needed. If an elder didn't have the strength to work outdoors, she might indeed sit by the fire—but there would always be chores she could do while sitting. Of course, that didn't prevent her from telling stories at the same time. When surviving through the winter couldn't be taken for granted, stories and song went far toward keeping joy and vitality in the soul, just as herbal remedies kept the body healthy."
We came out of the pines onto a steep ascent. The snowy peaks loomed majestically above us, just as they would have done thousands of years ago. I felt grateful for their enduring wisdom, as well as for my companion's gentle words, as the imaginary adventure faded away.