I didn't have much energy this morning, which was the result of traveling to a rowing regatta last weekend and training harder this year generally. I woke up late, felt exhausted anyway, and sat at my desk feeling blah most of the day, except when I took a break to do the grocery shopping. The training plan had a strenuous erg workout on the schedule, but I felt like there was no way I could do it, so I didn't even try.
In the afternoon, my husband got on a Zoom conversation with our coach, who said that we should take into account the stress of traveling. Although we hadn't felt as drained of energy after other road trips, last weekend we rowed pretty hard in our race and improved our time significantly. So, if it left us feeling like all we could do was muddle through the week, that wasn't altogether a bad thing.
To de-stress in the evening, I did a mellow 20-minute online yoga session. Then, to further shake off the blahs, I decided to post an encouraging message for Nurturing Thursday telling myself that I appreciated my efforts. We all have days like this sometimes. Doing the hard workout tomorrow should work just as well.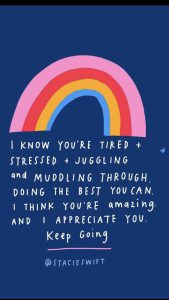 Nurturing Thursday was started by Becca Givens and seeks to "give this planet a much needed shot of fun, support and positive energy." Visit her site to find more Nurturing Thursday posts and a list of frequent contributors.