Even though today has been cold and gray where I live, with occasional rain and plenty of thick clouds hanging low, the signs of spring all around are making it look brighter anyway! All the green growing things are waking up from their winter sleep. There's a pale green shimmer spreading over the willow hedge as the leaves start to open, and the rose bushes are sprouting little leaf buds. And after last week's cleanup of old dead flowers, I can see lots of bulbs coming up in my front garden.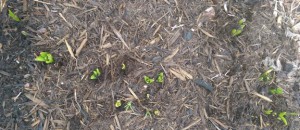 "The bulbs in the secret garden must have been much astonished. Such nice clear places were made round them that they had all the breathing space they wanted, and really, if Mistress Mary had known it, they began to cheer up under the dark earth and work tremendously. The sun could get at them and warm them, and when the rain came down it could reach them at once, so they began to feel very much alive."
— Frances Hodgson Burnett, The Secret Garden (1911)

Nurturing Thursday was started by Becca Givens and seeks to "give this planet a much needed shot of fun, support and positive energy." Visit her site to find more Nurturing Thursday posts and a list of frequent contributors.