Sometimes when I feel like I am wading through a bog of dull adult practicalities, I lighten my mood by rereading stories that I loved as a child. That's easy to do with my Kindle because e-books don't take up storage space in the house and many of them are priced at only 99 cents. I keep a velvet-covered print copy of "The Secret Garden" on a little shelf in the kitchen next to the Kindle, to set the right ambience.
Reading grown-up fairy tales can be fun too. At present I'm reading "Fairy-Struck" by Amy Sumida, an urban fantasy romance in which a thoroughly modern heroine discovers she is a long-lost fairy princess, although she never wanted anything of the sort and has no intention of giving in to her attraction to a handsome fairy lord. That's about as far from practical as a book can get—which is, of course, the whole point. Wishing all my readers a fun, lighthearted Thursday too!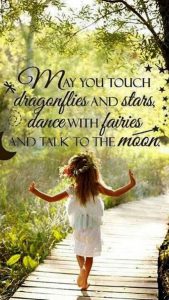 Nurturing Thursday was started by Becca Givens and seeks to "give this planet a much needed shot of fun, support and positive energy." Visit her site to find more Nurturing Thursday posts and a list of frequent contributors.