To read Part 5, click here. All parts of this story are consolidated on one page here.

Birds chirped in the trees outside the kitchen window on a pleasant summer morning. The two plates laid out on the table for breakfast had a border of pink roses, as did the matching coffee cups. Eggs were frying in the skillet, bread was toasting, and in just a minute her daughter would come in and sit down.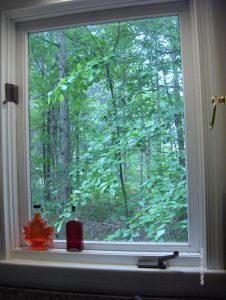 (Photo credit: Joanna Bourne)
"Awwwwk!"
A particularly loud, harsh cawing jolted Ina out of a sound sleep. She blinked in confusion at the cool whitewashed stone of the walls and ceiling. Where was she? And where had she been just now, while she was dreaming? All of it had looked and felt so real—there was a window, a big square window letting in plenty of light. It wasn't at all like the high, narrow slits in the otherwise bare wall above the wooden bed where she now found herself. Elaborately carved animal figures decorated the bedposts.
The dream faded as Ina sat up and looked around. Her bed was on the end of a row of five, and it was the farthest from the door. On the other side of the room there were tables, chairs, a freestanding wardrobe, and two dressers. The furniture was a dark and well-polished hardwood, which reflected the gleams of sunlight coming through the high windows. Thick mats made of reeds in geometric patterns lined the central area of the stone floor.
There was a small partitioned area—a changing room—on the wall directly across from Ina's bed. She had used it last night, by candlelight, to put on a comfortable nightdress that she'd found neatly folded on her bed. At present, a closed curtain showed that the room was occupied, apparently by Daphne, given the fact that Phoenix was still asleep and both Violet and Firefly were already dressed.
A side door next to the changing room opened onto a high-walled courtyard. Ivy covered the walls so thickly that Ina, making her way toward the latrine at the far end of the courtyard, had no idea whether the walls were of stone or another material. Branches of spruce and fir had grown thickly together overhead, letting in a cool, filtered green light. Their cones and needles carpeted the otherwise bare ground.
It occurred to Ina, after she left the latrine and started walking back toward the dormitory, that anyone who happened to pass by would never see the courtyard. Like the rest of the witches' compound, it was very well hidden from curious eyes. As far as she could tell, the nearby villagers rarely ventured into the Wild Forest anyway; but it was plain that everything here had been designed to avoid chance encounters.
When she went back inside, Daphne had finished changing and now had on a blue-green dress with brown threads scattered throughout. In the morning light, the fabric shimmered like a river's surface. The other girls also wore clothing that matched their personas. Violet wore a deep blue, shading into purple at the hem, and Firefly was in black with a sparkling multicolored sash. Phoenix was just now walking into the changing room with an armful of something red and orange.
Ina opened the wardrobe and found that the one remaining dress was white, mostly, with jagged vertical streaks of silver and bronze. The fabric was soft and pretty; but as she touched the dress, Ina felt instinctively that something just wasn't as it should be.
"That's a beautiful dress. It will look perfect on you!"
She turned around to see Firefly smiling at her. The cheerful look on the girl's freckled face had Ina returning the smile and saying "Thanks," before she'd had time to work out what was bothering her.
Everyone else had gotten dressed by now, and they hadn't come to any harm from it—or at least, any visible harm. Maybe there was nothing wrong with the dress, and she was just nervous about being in a new place. Carrying the dress into the changing room, Ina tried to sort through her feelings, but she couldn't make much sense of them.
The white dress did indeed fit her slim figure perfectly, as Firefly had said. She found a hand mirror on top of a dresser and inspected the results. The metallic streaks in the fabric seemed well suited to the young face looking back at her, with its hazel eyes, light brown shoulder-length hair, and smooth clear skin that showed some redness from yesterday's farm work in the sun. What had gone wrong, Ina finally determined, was that the face itself somehow didn't match the reality of who she was.
How could that be possible? Ina hadn't come close to reaching an answer when she heard footsteps and turned to face the doorway, putting the mirror back down where she had found it.
"Good morning, everyone!"
A tall woman in a red dress entered the room. She wore a hat of the same color, embroidered with clusters of green leaves, over brown curly hair. Her nose was thin and slightly hooked.
"I am called Rowan, and I'm very pleased to meet all of you! First we'll go to breakfast, and then it will be time to get started on your studies."
The words stirred a vague memory in Ina's mind, but she couldn't quite place it. Without thinking about it any farther, she found herself asking, "Will we have lesson plans and classrooms?"
Rowan seemed surprised by the question, and the other girls looked as bewildered as if Ina had suddenly begun speaking a foreign language. After a long and awkward moment, Rowan finally replied in a brisk tone that suggested some disdain for the topic.
"Oh, no—that's not something we would ever do here! Everyone learns differently, after all, and we have different interests and strengths. Forcing every student along the same path would be a sad waste of potential. What they do in the timeline you came from—well, never mind. You're here now and not there!"
With that oblique fragment of an answer, Rowan promptly turned away and began leading the girls down the corridor to breakfast.

Click here to continue to Part 7.