This is the fourth story in a series. Click here to read all parts from the beginning.

I was just about to turn away from the dead-looking lake when I noticed a small ripple forming along the horizon. Tiny wisps of fog started to rise from it. At first, they were so faint that I wondered if I might have imagined them. A few seconds later, though, I heard a whumpp sound, and a thick vapor boiled up to form a looming cloud in what had been, until then, an unbroken gray sky.
Just below the cloud, a wave started rolling toward the shore where I stood. It moved at a steady pace, like the tide coming in at the beach. Rising higher, it finally crested and began to curl as if breaking over unseen rocks. I might've been looking at ordinary surf—except that, as it came closer, the outlines of scaly blue-green heads became visible all along the wave's crest.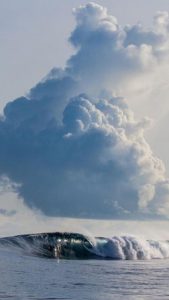 (Image credit: Johnny Jungle)
I found myself wondering, in a strange moment of detached curiosity, whether sea serpents could breathe fire like their dragon cousins. But obviously, the situation called for being more concerned with self-preservation, and I wasn't about to stick around long enough to find out what they could do.
Tossing my now-dry fire suit over my right shoulder, I took off running across the stone, trying (without much success) not to think about the fact that it was really a troll's head. I listened the whole time for the sound of that wave hitting the shore, but the unnatural silence persisted. All I could hear was the sound of my own shoes slapping against granite.
After I crossed the stone and came out onto a road made of hard-packed earth (or at least, something that looked and felt like it), I slowed down just enough to take a quick glance behind me. Although I expected to see a few of those scaly heads reaching my way, I was wrong. Once again, there was no sign of life or motion anywhere near the lake. It had gone back to flat, dead-looking water. Both the wave and the cloud had totally vanished.
The sulfurous smell of dragons was much stronger here. Steep cliffs loomed on either side. Ahead, the road narrowed, leading to a dark tunnel cut into the mountain. Cave openings at regular intervals—much too regular to have formed naturally—suggested this might be the home of a primitive cliff-dwelling tribe. No paths led up to the caves, however, and some of them were on sheer rock faces that didn't look anywhere near being climbable.
I'd already started putting on my fire suit in response to the obvious conclusion before my conscious mind caught up to it: Those cliff dwellers were very unlikely to be human.