In a conversation on another blog about the hot mess that was the first presidential debate, I mentioned that I am contributing to the Carter Center, which—for the first time ever—will be monitoring the election in the United States because the country now meets its criteria for a democracy at risk.
While it's not easy to keep a positive outlook in such times, I am grateful for the strong tradition of American democracy; hopeful that our citizens will vote to restore a decent government; and heartened by seeing so many people doing what they can to help.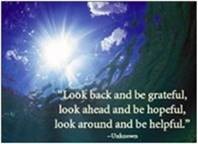 Nurturing Thursday was started by Becca Givens and seeks to "give this planet a much needed shot of fun, support and positive energy." Visit her site to find more Nurturing Thursday posts and a list of frequent contributors.