I didn't sleep well on Sunday night. Although I went to bed at a reasonable hour, it seemed like I had already been lying awake for a very long time when a parade of my younger selves began showing up, one after another. They were all very distressed, crying about how unfairly they'd been treated on some long-ago occasion, even though they had done all that reasonably could be expected.
For a while, I did my best to comfort them with imaginary hugs, reassure them it wasn't their fault, and sing them to sleep; but they just kept on coming. I tossed and turned, now completely miserable myself. I felt like I would never get any sleep no matter what I did, and then I'd have to drag myself out of bed for work.
Long after midnight, I got up to drink some water. I felt parched, like there wasn't enough water in the world, even though in fact I'd had plenty to drink on Sunday. After lying back down, I couldn't get comfortable because however I turned, my body seemed full of aches and pains, battered and worn down by many years of stress. Then the younger selves started in again with their litany of woes. It was all so unfair. I felt responsible for comforting them, almost like I was their mom; but who was going to comfort me?
This was definitely not just an ordinary night of "the blues." There were so many layers of blues piling on top of each other, it felt like I was lost and doomed to wander forever in a deep blue wilderness.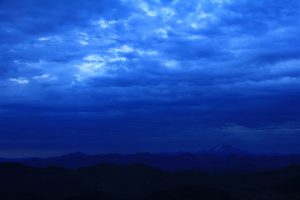 (Creative Commons image via flickr)
Then I saw daylight behind my closed eyes. My first thought was that I must have gotten at least an hour of sleep. I carefully got out of bed, anticipating that something would hurt; but there was no pain anywhere. I felt healthy, refreshed, and full of energy. How could that be?
I got a cupful of water, picked up my mobile phone, and opened the Fitbit app in which I log my daily water intake. One feature of the Fitbit wristband is that it senses when the wearer is sleeping. The app showed that I had slept for a normal eight hours, with only a few minutes awake when I got up in the night for water.
Only then did I realize that I had just been dreaming. The achy, sleepless "me" who had become old, tired, resentful, and worn down from many years of taking on too much responsibility and complaining about life's unfairness was not really me at all. Rather, she was a very literal manifestation of a wake-up call from Spirit, showing the natural consequences of such feelings.
I went into Monday morning with much gratitude, as if I had reached the end of my life and then, through miraculous grace, had been given a chance to start over.