This year we had Christmas dinner at our house, for the first time. My husband's parents always hosted it before now. Although everyone liked their home-cooked meals, this year our daughter offered to do the cooking to give them a break. (She actually bought the macaroni and cheese from Sam's Club and the green beans and pie from Bob Evans, but it was all pretty good and I didn't have to cook, so I'm not complaining.)
One advantage of having everyone come here was more space. Because my in-laws couldn't fit all the Christmas dinner guests in the same room, one group would sit in the dining room, while the others sat around the kitchen table. Our son always got relegated to the living room recliner with his dinner on a TV tray. He didn't object to that, but obviously it was not the ideal situation.
Our house has more space because the great room always was left empty, with the exception of a rocking chair in the corner (as shown in this post), which we relocate every year when we set up the Christmas tree. Truth be told, our first few years in this house, we simply couldn't figure out a good way to furnish the room. Then we decided it made a good place for parties and get-togethers as it was, bare and minimalist—with plenty of room to set up temporary tables.
For Christmas dinner we set up the folding tables in an L-shape around the tree, and our daughter cheerfully decorated them with holiday tablecloths and placemats from the dollar store. The photo below was taken while she was still experimenting—the tablecloths ended up being in a different arrangement.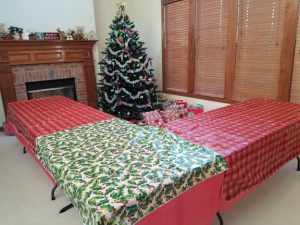 The chairs were totally mismatched because they came from the dining room set, the kitchen table set, other random chairs that we had around the house, and one that we borrowed for the occasion. Everyone had a comfortable place, though, and that was the main point.
After all the plates had been cleared away, we could easily open the gifts while still gathered at the table around the tree. My husband got me one present that was too big and heavy to lift up to the table, so it had to be opened on the floor. (I'll post a photo of it another time.)
Overall, the holiday dinner went well, and it was very good to see our daughter's thoughtfulness in offering to make Christmas easier for her grandparents. We are proud of how well she has grown up!