After a long string of very dark midwinter days, I'm looking out the window today at brilliant sunshine in a completely cloudless sky. When the sun came up this morning, the bare branches of the trees looked bright and golden—almost as if they were glowing with happiness to greet a long-lost friend.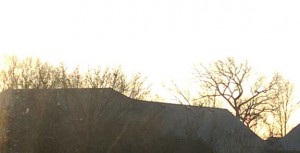 Although the lack of daylight at this time of year often causes people to dwell on gloomy feelings, it doesn't have to be that way—we can instead choose to see winter as a time for quiet reflection and appreciation. Winter gives us opportunities to feel more gratitude for the little things, such as a lovely sunrise that might otherwise have gone unnoticed.
Nurturing Thursday was started by Becca Givens and seeks to "give this planet a much needed shot of fun, support and positive energy." Visit her site to find more Nurturing Thursday posts and a list of frequent contributors.