After a rainy Sunday afternoon, we've gotten back to a more normal July weather pattern around here. The pleasant sunshine brings to mind the long summer days of childhood, rambling through the woods and picking wild blackberries in the meadows.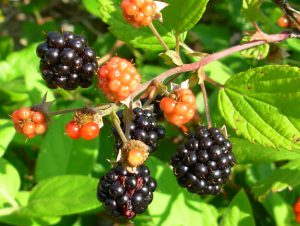 (Photo credit: Bob Richmond)
The image that I had on my art display on Tuesday was a seashore animation, which showed waves breaking on the sand beneath a gorgeous blue sky. Although the art display is silent, I felt as if I could hear the rhythmic sounds of waves and seagulls very close by.
Then my imaginary view expanded to take in a patch of blackberries near the village of Channelwood. A hillside, dotted with wildflowers, sloped gently down to the beach on the island's eastern shore. The sea looked calm on this bright, clear day.
Picking berries next to me was my younger self Queenie, dressed as usual like an 1890s farmgirl with a bonnet, braids, and a long gingham dress and stockings. I didn't have a basket, but Queenie had a good-sized one, which was about half full.
"I remember how much I enjoyed picking berries when I was a kid," I said, after I had picked a handful and put them into Queenie's basket. "Those summer days felt like they would go on forever. Going back to school seemed very far away, and being grown up was almost too distant even to imagine."
"There wasn't anywhere you needed to be," Queenie put in, as she carefully disentangled a bramble that had gotten caught on her dress. "There wasn't anything you needed to do."
"Yes. Or at least it seemed that way, which amounted to the same thing." I looked up from the blackberries and, for a moment, let my gaze rest on the hazy blue line of the horizon. "Of course I needed to be home in time for dinner, and I wore a wind-up watch—that was a few years before digital. I remember winding it before school on dark winter mornings. But that watch isn't part of my summer memories; the days seem timeless as I recall them now, without anything to measure or limit them."
Queenie picked a few more berries before she spoke again.
"It's not entirely true that there is nothing I need to do. I'll have to get back to the village after a while. Ella wants the berries so she can bake blackberry tarts, and I have some chores to do after that. Right now, though, I don't feel a need to be anywhere else. Maybe that's all it takes to have a view into forever."