This morning I ran the Turkey Trot, which has become a family tradition; we've done it for almost 20 years. Before we started the race, I told my husband that I was just going to take it easy. I still felt somewhat tired and achy from training so hard to get in better shape for rowing at regattas, and also from sitting in the car for hours on long road trips to those regattas. It was a good year—we both had much better rowing speed and endurance, and we won more medals. There's no doubt our online coach, Christine Cavallo, did an excellent job of improving our fitness; but it was exhausting.
My husband ran next to me all through the Turkey Trot and set what I thought was a nice steady pace. I had no trouble keeping up with him and did not feel tired. As we got close to the end of the race, I thanked him for being my "pace car" for a comfortable race. He was being kind, I thought, in staying with me instead of running on ahead, when he would have preferred a faster pace. I felt that I was slowing him down and that I was not putting much energy into the race.
We ran the five-mile course in 49 minutes. Then I made sure to walk around for a while to cool down, although it was raining and there was a chilly wind. It wasn't until after we got home, when I started looking online at past results, that I realized this was my best time ever for the Turkey Trot. There had been years when I got close to 50 minutes, but never below it. I also felt pretty good after the race; the cool-down walk was good for keeping my joints loose, and I did not seem to have any new aches or stiffness afterward.
As far as I can tell, whatever tiredness I still have is more mental than physical. I've read about research studies that suggest the brain is always subconsciously calculating how much effort to put into each activity. This can cause feelings of exhaustion not because the body is in fact overworked, but rather because brain circuitry detects a risk of overexertion and sends a "this could be too much, it's time to slow down" warning. I'm guessing that those risk-detection circuits got put on heightened alert when I exercised much more this year than in the past.
So, I've been left with a few questions: How do I update my body image to match my improved fitness level? What amount of rest do I need to (1) actually keep my body well rested, and (2) persuade those Nervous Nellie brain circuits that everything is fine now and I'm not on the brink of collapse? And, on top of all that, how do I sort out what's true and what's not in the cultural messages about slowing down with age?
After considering it for a while, I decided to ask Fannie, my imaginary 119-year-old future self, for advice. Fannie is short for Fantastically Adventurous, and I envision her traveling a much-changed world in her trusty flying car (named Hildegarde) while staying healthy and full of energy.
She wasn't in the car when I created a mental picture of her, though. Instead, she was walking beside a river on a sunny autumn day. As usual, her robot poodle, Maxie, trotted along with her. Maxie gave a friendly, welcoming yip when I appeared on the scene. Fannie smiled and motioned toward two chairs overlooking the river, which looked like a good place for a conversation.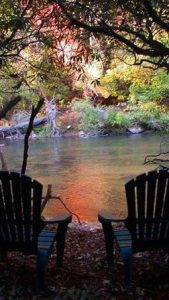 (Photo credit: Elizabeth Wallace)
We settled ourselves comfortably in the chairs, with Maxie at our feet. Although the breeze coming off the river felt just a bit chilly in the shade, both of us were dressed warmly enough that it didn't bother us at all.
"I seem to have gotten my subconscious mind in a bit of a tangle," I confessed. "Although my fitness is better than in past years, I've been feeling that I am more vulnerable and need to be careful with myself. I have been wondering what you do to avoid such worries. You always look so confident, about your health and everything else. Do you ever feel like this?"
Fannie considered the question, gazing out over the river as a few leaves drifted slowly by in the current. Reddish-gold reflections danced across the water's smooth surface.
"Those feelings used to be part of what was called a midlife crisis," she observed, "way back before people started living long enough that the idea of midlife lost its definition. But yes, however it might be described now, I still have such worries in the back of my mind. No matter how much the world changes, we can't ever get completely away from the culture we grew up in. Medical science has advanced enough that it is now possible to be healthy at a much older age than mine, but still, there are moments when I feel as if I'm living on borrowed time."
She reached down to pat Maxie's furry black head.
"I wouldn't really say that I avoid those worries," she concluded. "They're just going to come up at times. What helps, I've found, is to give the mind more possibilities to explore, so that it can keep on expanding its maps instead of simply assuming things must be the way they've always been."