The world felt soft and quiet when I looked outside this morning. We had snow last night—flurries were forecast, but it was enough to cover the ground. Formless gray clouds still hugged the horizon tightly, blurring into the gray tops of leafless trees. The air had gone completely still, without even the slightest wind stirring the neighbors' flag. All down the row of houses there was only silence. Like a child yet to wake, a young Earth pulled her comforting blankie closer around herself and settled more deeply into her slumber.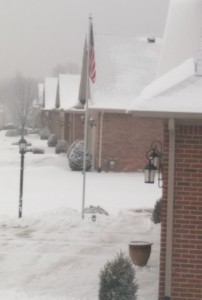 Sometime yesterday afternoon, I had changed the image on my digital art display to a church window. I don't know where it came from—the person who uploaded the photo simply titled it "Quiet." The foreground is a wide expanse of dark textured floor; it leads back to a nook under a tall window, where a narrow desk sits empty, the chair pushed into a corner. Sunlight slants through the window to the right of the picture, barely illuminating the first few steps of a black staircase. An electric lamp on the desk is turned on, as if inviting a passer-by to sit and read a devotional text. There is another light that hangs from the ceiling, but it looks tiny and insignificant next to the window.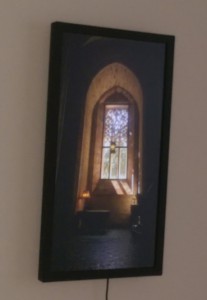 When I sat down to write this post, I could hear birds chirping; they know spring is not far away, even though today's monochrome landscape gave few hints of it. The weather app on my phone said "cloudy," which was accurate enough. I would have liked to see "cloudy with brightening skies," but I doubt I ever will, as that phrase would be too long for a busy person's quick glance. Occasionally when the forecast calls for a dark day with a thick, heavy cloud cover, it uses the word "dreary." I wish it wouldn't, as that comes across to me as more of a value judgment than a weather term. Sometimes we need life's dark spaces with their peaceful stillness, reminding us to pause and reflect, to fully appreciate the present moment of grace.