I started writing this post last weekend when my rowing club went to the US Rowing Masters National Championship regatta, which was in Oak Ridge, Tennessee this year. The club has only one member who rows fast enough to win medals in such a competitive event, but the rest of us had fun anyway. My husband volunteered to tow the boat trailer with his SUV. Going through the mountains with it was an adventure; but he is a good driver, and all went well.
We have rowed at Oak Ridge before in smaller events. It is a beautiful course and very well maintained. The only problem I have is that being outdoors for a long time in the hot, humid Southern air gets to me after a while. So, while my husband watched some races on Saturday in the heat, I sat in a lounge chair by the hotel pool and stayed comfortable in the air conditioning.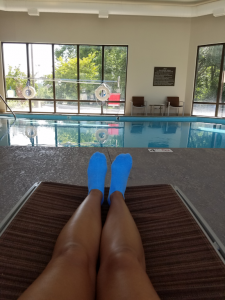 Masters athletic events are interesting because they are such an attitude adjustment with regard to society's views about aging. Little old ladies in rowing shorts and tank tops were walking around with 30-foot boats on their shoulders. The boats are made of carbon fiber, so they're not all that heavy; but rowers do need to be reasonably fit.
While I sat by the pool daydreaming, I thought about what the world might be like in a future where older people could expect to stay fit and healthy. By that I don't mean some amazing new scientific discovery to prevent aging, but just incremental advances on where we are now: better nutrition, exercise, and medical care, along with a shift in cultural expectations so that older people wouldn't assume poor health was normal and would take better care of themselves accordingly.
Like all of us, I have my share of aging myths that grow like thorny weeds in the subconscious, whispering that every little ache or twinge is a symptom of decline. In today's culture it may not be possible to root them all out entirely, given how pervasive they are. Still, as with any garden, a thriving mix of tall flowers and thick shrubs can overshadow the pesky weeds enough to keep them tiny and insignificant.
So—what healthy ideas could I plant in my subconscious to crowd out negative views of aging? After giving that question some thought, I decided to visualize what I'll be doing in 2083. I picked that year because it will be a full century from when my husband and I met in college. Because some people really do live that long in the here and now, it wouldn't require major advances in longevity science.
I wasn't composing a bucket list or anything that I really planned to do; it was just a few random, stream-of-consciousness imaginary adventures. Because I already had rowing on my mind, I first pictured myself traveling to Australia with my husband to row a new boat with the latest 2080s technology at a regatta in Sydney. Then I thought, well, this is far enough in the future that maybe we're booking a vacation at a hotel in a colony on Mars. Or traveling to California in a flying RV. Or working on interesting projects that involve very cool futuristic technology, getting paid lots of money to work part-time hours because of the future economy's labor shortage.
As I see it, there's no downside to imagining myself fit, healthy, and adventurous many decades from now. Maybe it won't happen, and instead I will have been in the grave for a long time by then; but if it turns out that my imaginary adventures were too farfetched, I don't suppose my ghost will care.