Following up on last Thursday's post, I got a bit more pushing than I expected at the rowing regatta. Eagle Creek in Indianapolis looks peaceful and calm in this photo that I took when we arrived, but it is wide and often windswept, which makes it choppy and a challenging place to row.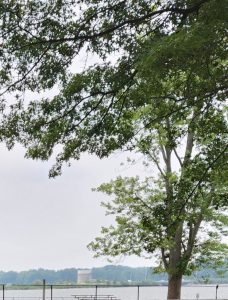 On the practice day before the races started, when I had thought I'd go out in the double, my husband suggested that we row singles instead because the weather was good. I had never rowed a single there and, to be honest, I wasn't planning to row it because racing singles are such tiny, narrow boats that it can be scary to go out on a choppy course. He talked me into it, though, and the water was in fact pretty calm, so it wasn't bad.
We also had a good day for the mixed double race, with very little wind. The regatta was well attended, and our competitors were fast enough that we didn't win any medals this time. Still, it gave us a good benchmark of how much we have improved and of what we need to work on.
The other races had the more typical windy, choppy conditions, and I felt that I had to push myself to keep going back out there. Our club currently does not have any quads that are small enough for lightweight crews (although one is on order), so we were bobbing around a lot, which made me nervous. By the end of the regatta, I was exhausted and glad to get home. Still, a few years ago, I couldn't have done as much, so I can't complain—it's definitely doing me some good.