Even though I've never devoted a lot of time and energy to holiday decorating, I somehow ended up with random Christmas items scattered around my house anyway. They took up residence at the back of cabinets, on the top shelf of the pantry, and other places where I hadn't looked in a while. How that happened, I really don't know… maybe I can blame it on mischievous elves?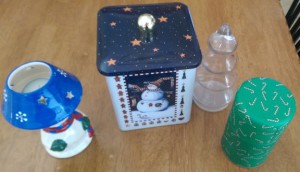 My usual Christmas decorations, when out of season, are kept neatly boxed up in the basement closet under the stairs. They're not a problem. But the random stuff hadn't been used in ages and was just taking up space in my house, pointlessly, and gathering dust. No sense in keeping that!
About Clutter Comedy: Every Sunday (which I envision as a day of rest after a productive week of de-cluttering) I post a Clutter Comedy article describing my most memorable clutter discovery of the week. Other bloggers who wish to join in are welcome—just post a link in the comments! There's no need to publish any "before" photos of your clutter, if they are too embarrassing. The idea is simply to get motivated to clean it up, while having a bit of fun too!