At work this month I've been participating in an exercise that was described as a continuous-improvement project and a way to encourage collaboration across workgroups. Teams made up of people from different parts of the company are proposing suggestions for better perks and other ways to improve employee engagement. The presentations will be made on Monday.
For my team's project, I volunteered to do some research on labor shortage and retention issues, so as to put the topic in perspective. That made very clear why management is concerned about the employee engagement issue. It was quite an eye-opener. I learned that 27 percent of the U.S. workforce quit their jobs in 2018, which is the highest quit rate on record. Meanwhile, retirements also are on the increase: every day, about 10,000 workers of the Boomer generation sail off into the sunset.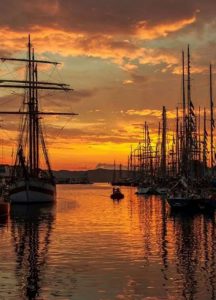 Although I had known in general that a labor shortage was developing and that many companies were finding it hard to keep enough workers, I hadn't fully realized the extent of it until I looked at the statistics.
I suspect management's real goal with this employee engagement project is to look for ways to keep the workforce happy, or mostly so, without having to raise wages much. That probably won't get them very far in reducing the number of quits and retirements, but we shall see. Next year ought to be interesting.