Earlier this year, I put a box of store-brand facial tissues in my bathroom because the supermarket gave some away for free to get people to try them. I wasn't much impressed. The box had a plain, boring design, and the tissues felt coarse and hard. When I needed a tissue, I usually went and got a Kleenex from somewhere else in the house instead. That box sat on the bathroom counter for months.
When the freebie tissues finally got used up, I bought some real Kleenex in a box with cheerful summer colors, which immediately made the bathroom feel like a brighter and happier place.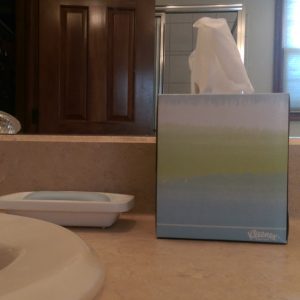 And then I wondered why the heck I hadn't done it sooner. Avoiding waste may generally be a virtue, but using up every one of those cheap tissues the supermarket gave away while they left my bathroom looking blah for months was taking frugality to an extreme!
* Good Things is a weekly series featuring the many unexpected joyful things that show up when clutter and stagnation have been cleared away. It's meant as a reminder that life is always full of happy little surprises, when there's enough space for them!