All parts of this story are consolidated on one page here.

Ina slid easily down from the white gelding's back and tied his reins to a nearby branch, which was still wet from the morning's light snow. The temperature had been rising steadily all day, and the snow had melted hours ago. Gray clouds hung low over the bay, not quite obscuring the hills beyond the far shore. A narrow spit jutted out, with a lighthouse occupying its tip.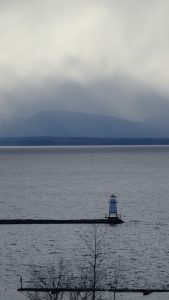 Dismounting somewhat more carefully, as might be expected given her advanced age, Thalassa tied her dun mare beside the gelding and turned to look out upon the bay.
Although Ina had taken short journeys with other instructors fairly often, this was her first time traveling in the company of the venerable Mother Ocean, who rarely left the witches' compound. That had worried Ina somewhat, as their mounts' hooves clopped softly over the forest's damp and muddy paths. Was she seen as a poor student in need of remedial work, or perhaps as a troublemaker?
That line of thought had sent Ina into a mental loop of replaying what felt like a long list of deficits. She'd gotten upset in the library on the very first day of instruction; her carelessness had been responsible for starting a forest fire and killing an ancient oak tree; and she still felt unsettled about not knowing her origins, unlike the other girls, all of whom seemed much happier with their new circumstances. Maybe she had been judged unworthy and was being sent away.
When Thalassa spoke, however, there was nothing critical in the older woman's voice, but only a simple question.
"Look at the bay. How many ships do you see?"
Ina turned her head to peer farther in both directions but still saw only empty waters. "No ships are nearby, just the lighthouse."
"Indeed—but there are ships about to enter the bay, and the lighthouse will guide them when they arrive. In much the same way, we have an inner sense of direction that guides us when our eyes cannot. So close your eyes, Ina, and look again. How many ships are entering the bay?"
Ina had no idea where the entrance to the bay might be; this journey, which had taken much of the day, was farther than she had ever traveled from the Wild Forest—or at least, farther than she could remember traveling. With the little shake of her head that had become her habitual response to such thoughts, Ina brought her attention back to the question of what might lie beyond her closed eyes. She felt water dripping down the back of her cloak and heard one of the horses softly nickering to the other; that wasn't much use.
Widening her inner focus, she brought to mind the cloudy expanse of the bay as it had appeared on her left. She couldn't sense anything in motion there besides a few tiny specks flitting about on the periphery of her consciousness, which she guessed might be seagulls or fish. Still, not useful. The lighthouse cast a warm glow in Ina's imagination, welcoming the new arrivals—wherever they might be.
Mentally following the rays of light as they spread out over the water on her right, she became aware that there was something larger moving her way. Two somethings. No, they weren't things, not really; instead, they were clusters of feelings and intentions. They were people, in fact, two distinct groups of them, moving calmly and purposefully as they went about their work.
"Two ships," Ina said, keeping her eyes closed as she responded to the question she'd been tasked to answer. "But what I'm sensing is their crews, rather than the ships themselves."
"Yes, Ina. The world is full of things, and some of them are quite large; but much of the energy lies in the tiny points of consciousness that we call our lives. You may open your eyes now."
Ina blinked, entirely losing her awareness of the ships' crews as a distracting thought came to mind. "Was that how you found me and took me from…"
Once again, she couldn't bring forth either the name or a clear mental image of the place that had seemed, for just a moment, to be within her mind's grasp. Roses, Ina told herself, almost as if repeating a mantra. Roses, and a warm and welcoming home.
Thalassa's faint smile held a touch of sadness. "All in due time, my dear."

Click here to continue to Part 12.