In my home-office area there are two matching desks, which my husband and I bought in 1999. They're still in pretty good shape; the only issue over the years has been that the file drawers came with thin curved handles, which broke many times. At one point my husband bought a bag of 10 drawer pulls because they needed replacing so often. The last time one broke, though, it finally dawned on us that maybe we should get something better, instead of always matching the old ones! So we bought nice big sturdy ones instead.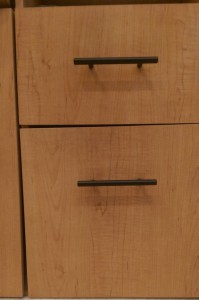 Much better! Though it now seems as if it ought to have been obvious all along, we honestly never thought about it before. Over the years we'd gotten so used to the drawer pulls always being in the same style, we just couldn't shift our mental maps enough to imagine the desks being any different. There's a good lesson about self-nurturing here; instead of mindlessly putting up with little annoyances out of habit, it's best to consider the alternatives!
Nurturing Thursday was started by Becca Givens and seeks to "give this planet a much needed shot of fun, support and positive energy." Visit her site to find more Nurturing Thursday posts and a list of frequent contributors.