Last month I posted a Nurturing Thursday entry with a photo of yellow daylilies in bloom next to my house. I mentioned in the comments that I also like orange lilies, but had not planted any. Much to my surprise, this week I found lovely orange lilies blooming in a gap in my neighbors' hedge (shown in this post) where the deer trampled down the bushes long ago.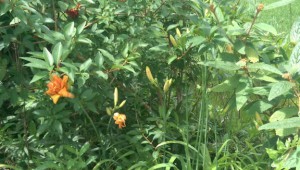 Just gorgeous! I don't know whether the neighbors planted the lilies recently, or maybe they were there all along and never grew enough to bloom because the deer always stepped on them. I haven't seen any deer walking through the hedge this year, probably because construction of new homes changed their usual paths. So it looks like the hedge is finally going to grow together, with orange lilies as a bonus, yay! Sometimes when we wish for things, they really do show up.
Nurturing Thursday was started by Becca Givens and seeks to "give this planet a much needed shot of fun, support and positive energy." Visit her site to find more Nurturing Thursday posts and a list of frequent contributors.