The rowing club ended the season with its annual Jingle Bell Row on Sunday afternoon. The sweep team decorated a boat like Santa's sleigh, with eight rowers wearing reindeer antlers while the coxswain had on a Santa suit. To announce that they were ready, the rowers sounded off by reindeer name instead of doing it the usual way by seat number.
We had a total of eleven people who wanted to go out on the water, and I rowed a double with another woman. It was a lovely mild autumn day, sunny and calm.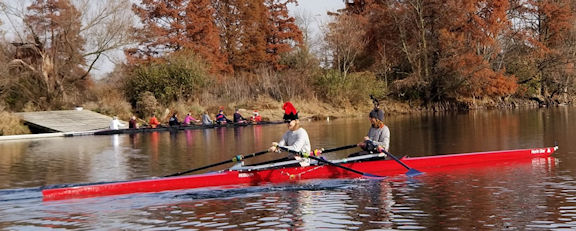 The water was cold, but another club member volunteered to drive a safety launch while taking photos; and nobody got wet, so it was a good day all around. We had hot chocolate afterward, and a few people brought homemade baked items to share, which included a yummy pumpkin bread made with a pumpkin from a backyard garden. Everyone was left with good memories for the winter months ahead.