The orange trumpet vine along my backyard fence (also shown here and here) has one last bloom remaining at the very top. All the others have turned into big, heavy seed pods hanging down above the grass. Hummingbirds love these flowers, and I took a quick picture with my phone camera on a gorgeously blue morning, to mark the end of the season.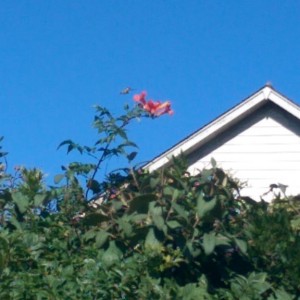 Wishing everyone who reads this post something beautiful this week too!
Nurturing Thursday was started by Becca Givens and seeks to "give this planet a much needed shot of fun, support and positive energy." Visit her site to find more Nurturing Thursday posts and a list of frequent contributors.