Thanksgiving is unusually quiet for my family this year, like it is for many families. Instead of waking up early to run in the Turkey Trot road race, my husband and I will go for a run in the park with our son this afternoon, as part of the virtual event. Our daughter won't be home because she is a nurse and the hospital where she works—again, sadly, like many—has become overwhelmed with COVID-19 cases. Although she is not among those taking part in their care, she will be filling in to do the regular work of other nurses who have been scheduled for pandemic duty.
Even so, my family has many blessings for which we are thankful. We have food on the table, a comfortable home, and good jobs. After my husband was laid off, he found a better position quickly and now feels happier and more relaxed. We have better fitness because, without much else to do, we spent more time exercising on our rowing machine. And, last but definitely not least, we don't waste our time worrying about small annoyances now that it has become clear how trivial they are.
Wishing you many blessings this Thanksgiving also!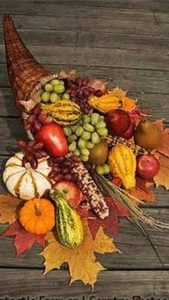 Nurturing Thursday was started by Becca Givens and seeks to "give this planet a much needed shot of fun, support and positive energy." Visit her site to find more Nurturing Thursday posts and a list of frequent contributors.