I did some spring cleanup in my front garden by pulling last year's dead annual flowers—snapdragons and alyssum. I generally leave them in the ground over the winter because they sometimes can survive if the weather is mild; but although this year wasn't as frigid as last winter, it certainly didn't qualify as mild either!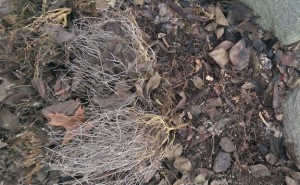 I believe that touching the earth can make us feel more in touch with nature and, generally, better nurtured. So, although I often wear gardening gloves to avoid getting my hands scratched or irritated, I didn't wear them for the few minutes it took to pull the dead flowers. I wasn't outside very long because it has been chilly and windy the past few days, but it felt good to get out there anyway!
Nurturing Thursday was started by Becca Givens and seeks to "give this planet a much needed shot of fun, support and positive energy." Visit her site to find more Nurturing Thursday posts and a list of frequent contributors.