Over the long weekend, my husband and I got out rowing every day. The weather was nice and sunny, though definitely on the windy side. We rowed a double on Saturday and Monday, which doesn't get blown around as much as a single because it is larger and more stable. On Sunday it seemed mostly calm in the early afternoon, and we went out in singles, but the wind started picking up toward the end of our row.
I got an email at work last week asking for photos of Labor Day activities to share with the group, so I asked my husband to take a photo of me rowing the single. He brought his phone in a waterproof bag, and although the sun made it hard to see, he managed to get a pretty good landscape view.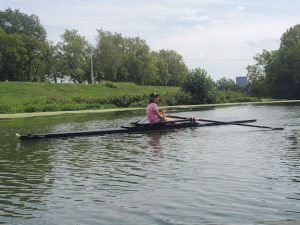 On Monday we went out early too, which turned out to be a good thing because some ferocious thunderstorms developed later in the day. Now the river is full of debris and too high to row. Of course, we're back to work anyway, so I am not complaining. The rain was for the best, as it has been so dry around here.