We've had a week or so of sunny and hot summer weather in my area, after an unusually cool and rainy spring. I have been getting outdoors more often with my husband—rowing, biking, and walking. That sometimes leaves me with a passing thought that my blog is being neglected; but even when I am in the house, not much comes to mind to write.
On Tuesday, I sat down at the computer for a while. Instead of composing blog posts, though, I spent some time looking for photos of summer wildflowers and other natural scenes to upload to the online library for my art display. This was the one I chose for yesterday: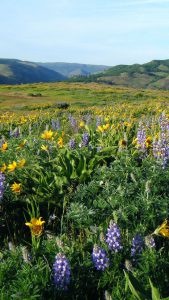 I'll take that as a message from my subconscious mind—the natural world is full of beautiful places to explore, and it's okay to get out and enjoy them while the sun is shining. There will always be plenty of time for blogging and other creative pursuits later, without need to cram them into an arbitrary schedule. Modern life has too much time pressure anyway, so there's no reason to add more.