Although I'm not really going to the beach for Memorial Day weekend, I decided to get in the mood anyway by putting a cute beach and pool cartoon on my art display. Okay, maybe I can't jump into the picture and be there; but hey, my inner child doesn't know that, right?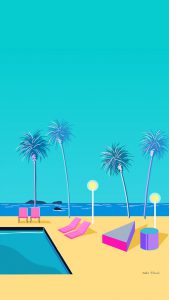 Who says that doing therapy on oneself has to be all about angst and excavating mounds of deeply buried negative emotions? I honestly think that sometimes it might be more worthwhile just to invite my inner child to hang out at the beach for a little while, build a sand castle or two, and enjoy a yummy confection from the ice-cream truck.
At the very least, it can be a useful reminder not to take life too seriously!