Last September, I bought three lavender mums from a Junior Rowers fundraiser and planted them in my front garden.  When we had such a bitterly cold winter, I thought there was no chance any of them would come up this year. But much to my surprise, I discovered that there was one survivor.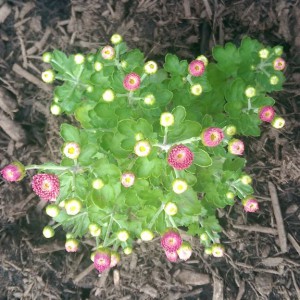 It's tiny—about the size of my hand, and I have small hands. But it's thriving anyway, with plenty of buds getting ready to open. I see it as a reminder of how life goes on. Even when we feel that we're too stressed and overwhelmed to do anything, we may still find ourselves blossoming in unexpected and beautiful ways.
Nurturing Thursday was started by Becca Givens and seeks to "give this planet a much needed shot of fun, support and positive energy." Visit her site to find more Nurturing Thursday posts and a list of frequent contributors.