My father gave me a micro cassette recorder 30 years ago, when I was a student, for recording lectures. Micro is, of course, a relative term. At the time, it was a great technological marvel because it was small enough to fit into a purse or a book bag, unlike the old tape recorder I'd had since fourth grade, which was the size of a boom box. After my student days were over, the micro cassette recorder somehow ended up at the bottom of my sewing bag, where it sat all these years…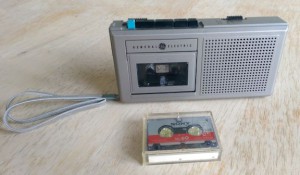 It still works, but I can't imagine ever having any use for it now that videos can be recorded on smartphones. And besides, if I wanted to attend a lecture or other public event nowadays, an official video probably would be posted on the event presenter's website within a day or two. Time has long since passed that cassette recorder by, alas, and there's nothing left for it but to meet the sad fate of all clutter!
Edited on November 25: I looked up micro cassette recorders online, and apparently people do still use them for taking dictation. So it's not completely useless, and I'll give it to the thrift store sometime this week.
About Clutter Comedy: Every Sunday (which I envision as a day of rest after a productive week of de-cluttering) I post a Clutter Comedy article describing my most memorable clutter discovery of the week. Other bloggers who wish to join in are welcome—just post a link in the comments! There's no need to publish any "before" photos of your clutter, if they are too embarrassing. The idea is simply to get motivated to clean it up, while having a bit of fun too!