If I had to rate the success of my New Year's resolution and word of intention for last year, I'd call it a mixed bag. My resolution for 2019 was to better appreciate others' kindness by keeping a journal of kind things that people did for me. I made daily entries through the end of March, when my subconscious mind unexpectedly yelled at me that I needed to quit giving myself extra stress with unnecessary self-imposed tasks. So the resolution lasted only three months.
My word of intention, Sublime, went more according to plan. I meant it in the sense of the chemistry term—constructing a low-pressure environment in which to vaporize long-frozen anxieties and disappointments. Over the course of the year, some old negative thought patterns did indeed come into conscious awareness and lift away.
The problem with sublimation, however, is that it creates fog. As autumn turned to winter, I often felt that I lacked clear direction—not just for the coming year, but for life more generally. Those feelings gave rise to my word of intention for 2020: Clarity. I'm looking to discover a path leading through a mindscape of brilliant sunshine on a clear winter day, after the fog has lifted and the days have begun to lengthen toward spring and new growth.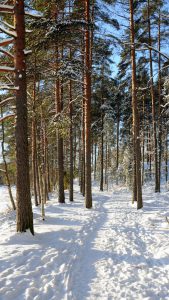 (Photo credit: Ari Helminen)
I've chosen a New Year's resolution aimed at reinforcing that intention by regular practice, but without pushing myself to complete any daily tasks or to accomplish any particular goals. What I have in mind is only this: whenever I feel a lack of clarity, I'll gently bring the moment into better focus. Maybe I'll do that by paying more attention to my breath, or to a fallen leaf, or to the angle of sunlight through a window. The world is full of small details that form clear images; it's simply a matter of noticing them.