Chilly weather kept me indoors the past week, but that was all right because I stayed cozy while rereading the classic children's book "The Secret Garden" by Frances Hodgson Burnett, which is set in 1900 or thereabouts. A disagreeable and selfish girl named Mary, who always had servants to wait on her and never learned to do anything for herself, is sent to live with her uncle in Yorkshire after her parents' sudden deaths. The local children befriend her, although at first she does not even know how to play with other children. She finds a secret garden that has been neglected for ten years and decides to make it beautiful again by weeding, planting seeds, and pruning overgrown roses.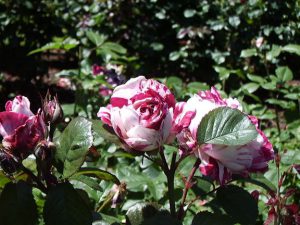 (Creative Commons image via flickr)
Mary discovers that her uncle has a son, Colin, whose mother died when he was very young and who is even more selfish and spoiled than Mary herself. Colin was sickly as a small boy and overheard adults saying that he would not live to grow up, which caused him to worry obsessively about his health. He became afraid to go outside because he worried about catching some disease or being stared at by pitying passers-by. Staying in his bedroom all the time and being a very picky eater made him so weak that everyone thought he was unable to walk. He did not go to school, and a servant pushed him in a wheelchair on the rare occasions that he left the house.
After Mary interrupts one of Colin's frequent self-pitying tantrums by shouting at him that there is really nothing wrong with his health—which none of the servants had ever dared to say—she tells him about the secret garden and how happy she feels being out there in the sunshine. She persuades him to let one of the local boys push his chair to the garden, where he feels so much better that he embarks on what he calls a "Scientific Experiment" to become stronger with the help of the same "Magic" that makes the plants grow. After months of exercise in the garden and good nourishing meals, Colin feels perfectly healthy. His father is very surprised, upon returning from a long trip abroad, to find a much better-tempered Colin and Mary running and playing happily in the garden that Colin's mother once loved.
The story is chiefly about the power of thoughts to change the course of people's lives, for better or worse. It left me pondering whether the occasional aches and pains that I've noticed in recent years might have to do with feelings of being too busy. Although I am not really all that busy compared to many people, or even to myself in the past, I have spent a lot of time in the backyard the past few years, pruning shrubs and small willows that got damaged by recent cold winters and dry summers. Maybe that contributed to aches in my arms (from "pushing" to get things done) and my feet (from being "run ragged" by the to-do list).
So, like Colin, I've decided to make this year's gardening season into a "Scientific Experiment" to test the hypothesis that the random aches and pains will naturally go away in a few months if I don't feel overly busy. Instead of thinking in terms of always having "yard work" to do, I plan to look at it as playing in the garden and to be cheerful about going out to play. I am even going to look at myself in the mirror before going outdoors and imitate the country Yorkshire accent of some characters in the story, telling my reflection, "Eh, lass, get you gone an' play you!"
Of course, I don't really have any idea what a country Yorkshire accent sounds like, even in modern times, much less what it would have been like a century ago; so, needless to say, I'll sound quite ridiculous. That is all right, though, because play is not supposed to be serious, so it will just add to the fun!