Twas the night before Christmas, and the children were all snug in their beds in the tiny houses of Channelwood village. A mouse was stirring, with visions of cookies dancing in his furry little head. Although Ella's pet mouse, Darcy, was supposed to be asleep in his basket at the foot of Ella's bed, he was just pretending. As soon as Ella dozed off, up he jumped, intent on getting to that plate of cookies he'd seen Sara leave on the kitchen table. He was in such a rush that he didn't even stop to shake off the ridiculous red cap that Ella had put on him.
Usually, the children were tidy enough that Darcy wouldn't find much besides a crumb or two for a midnight snack. Ella conscientiously fed him a healthy mix of homemade kibble; but of course, no self-respecting pet would be content with that. Not when there were cookies left unguarded!
Scurrying toward the kitchen, Darcy heard the sound of tinkling bells. He didn't think much about it until he discovered an intruder—a big fellow in a red suit, with a bushy white beard—standing next to the kitchen table and EATING ALL THE COOKIES! Furiously, Darcy stood up on his hind legs and chittered something not at all nice in mouse language.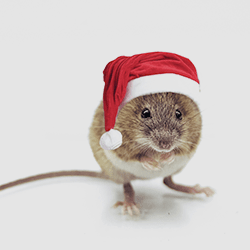 "Well, hello, little fellow! A very merry Christmas to you!" The intruder gave a jolly laugh and bit into the last cookie.
Darcy shook his tiny fists and screeched something even nastier.
"Well, now, this won't do. Naughty mice don't get presents. If you want a piece of this cookie, you're just going to have to ask properly."
That didn't seem fair to Darcy; after all, he was the one who lived here. But his greed soon got the better of his pride, and he chirped something that sounded at least somewhat contrite. The white-bearded fellow reached down, with a chunk of cookie and a hearty "Ho, ho, ho!"
Darcy took a big bite. Yum, oatmeal! He closed his eyes in bliss. When he opened them again, the intruder was nowhere to be seen. Outside the kitchen window, bells tinkled again, and the faint shape of a sleigh vanished into the clouds.
Snuggling back into his cozy basket in Ella's room, Darcy tried to tell himself that he had dreamed it all after eating too much of a very tasty cookie. He couldn't quite manage to convince himself, though.