I planted a chrysanthemum next to my mailbox on Tuesday, with buds just starting to open. The mum replaced a wilted little zinnia that never managed to grow much because there was hot, dry weather all through the late spring and the summer.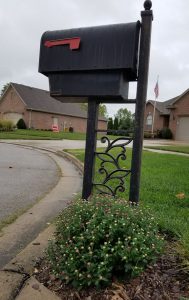 Although I know this is nothing unusual and many people change their seasonal flowers as the days turn cooler, in past years I did my seasonal planting in the spring and just left the flowers in place until the frost got them. I generally felt that there wasn't much to do in autumn and winter besides hunker down in a warm house and wait until spring came again.
Of course, there is no good reason to feel trapped indoors just because the temperature drops. I live in the modern world, after all, and not in a log cabin in a primitive village where anyone venturing too far might get caught in a blizzard or eaten by wolves.
So I've decided that whenever I look at the mum blooming by the mailbox, it will be a positive reminder that new growth and renewal can happen at any time of the year, even when the trees are dropping their leaves.