When I sat down to start my work I knew this would be a long day, both because I usually work later on Thursdays and because I had an annoying computer issue yesterday that wasted time. Also, it was a dark morning and got even darker when some rain blew in, whipping the new leaves on the trees all around.
Then it occurred to me that a window with a nice view of trees next to my desk was something to appreciate, even on a rainy spring morning; after all, a lot of people nowadays work in cubicles far away from outdoor views. So I decided to post a cartoon of a smiling tree for Nurturing Thursday.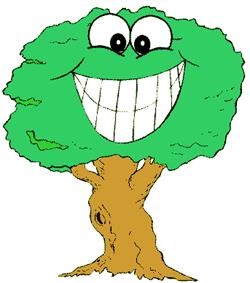 Okay, this is a totally goofy picture, but I have to admit it cheered me up. And yay, the sun came out just now and the birds are chirping, too. It's all good!
Nurturing Thursday was started by Becca Givens and seeks to "give this planet a much needed shot of fun, support and positive energy." Visit her site to find more Nurturing Thursday posts and a list of frequent contributors.