Although I had been planning to row after work on Wednesday with my husband and my teammate Deb, the weather did not cooperate. What had been forecast as a small chance of rain turned into a downpour that went on, and on, and on. We stood in the boathouse for a long time, just watching it come down.
Deb and I got into a conversation about how nice and cozy it would be to sit at home drinking hot tea while watching the rain. After a while the sun came out, and we saw a rainbow. By then we had given up on trying to row. The river surely would have been full of dead branches and other debris after so much rain. The parking lot had gigantic puddles. I was wearing my water shoes, but there was no way I could step carefully enough to avoid getting my socks wet.
Watching me try to pick my way through the puddles, Deb just grinned and said "Squoosh! Squoosh!"
"We can always pretend to be kids and jump in the puddles," I answered, now feeling more cheerful.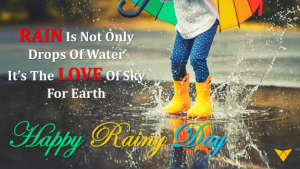 Nurturing Thursday was started by Becca Givens and seeks to encourage self-nurturing and to "give the planet a much needed shot of fun, support and positive energy."