Many of us choose words of intention and make resolutions as a new year begins. This is only my third year for both, I must confess. Before that, I hadn't thought much about the process of creating an intentional life through small everyday choices. Although I had plenty of persistence and generally managed to follow through on whatever I decided to do, I lacked the patience needed to go along with it. All too often, I stressed myself out trying to cram every ambitious idea, plan, project, and expectation into the present.
Whether it is magic as some would say, or just the ordinary workings of the subconscious mind, whatever thoughts get the most attention are the ones most likely to find their way into real life. This doesn't mean, however, that it is necessary or even possible to discipline every thought and clearly visualize every detail of a long-term goal in order to get there. Everything that we encounter changes us, even though it may be in tiny, almost imperceptible ways; and thus our intentions are always in motion as we move into the future, the details shifting and coalescing to form new patterns like the bright sparkling colors of a kaleidoscope.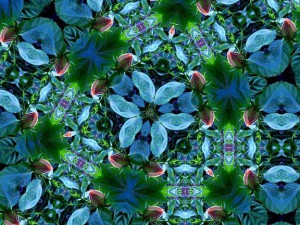 (Creative Commons image via flickr)
I have decided that my focus throughout this new year will be on mindfully appreciating the little details in the present that mesh with the intentional life I am creating. Rather than trying to force everything into a precisely constructed life plan, which strikes me as an unrealistic expectation (and one that wouldn't be much fun even if it reasonably could be accomplished), I move forward trusting that the patterns will fall into place in due course.
My word of intention for 2016 is Coalesce. I've resolved to keep notes each day on whatever I happen to encounter that is a product of my past intentions, along with any questions that may come to mind and any images that seem relevant. Keeping a journal of this nature will give me a better sense of what patterns are in motion right now, as well as identifying where changes are needed and settling doubts about how they're going to work out. I don't need to foresee everything that will happen in the future—after all, my life would get pretty boring if I did!