The recent grocery shortages have disrupted my husband's routine. He likes to drink Coke in the evening, preferably from cans because they are less likely than plastic bottles to tip over when placed on the desk, and caffeine-free Coke Zero to avoid getting too much unhealthy sugar and being kept awake. Unfortunately, caffeine-free Coke Zero in aluminum cans disappeared sometime last year. It was available in bottles for a few months, but soon the bottles vanished too, and he substituted Diet Coke in cans. Then the aluminum can shortage got to them also. Diet Coke in small bottles usually could be found until last month, when it was only available in 2-liter bottles, and those were in short supply and dwindling fast.
So, the last time I bought groceries, when I saw there were a dozen cartons of caffeine-free Coke Zero in aluminum cans, I put them all in my cart. But then they didn't ring up properly at the checkout. The cashier had no idea what the problem was. Another employee arrived on the scene and told me that there was a limit of six cartons and that I had to leave some for other customers. Of course, there hadn't been any signs in the aisle about a limit on purchases. I paid for the six cartons, brought them home, put them in the pantry, and told my husband I'd been caught hoarding.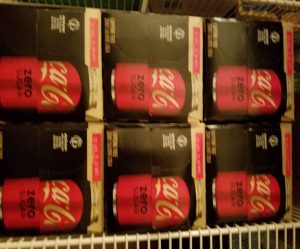 The six cartons should last for a while, and this incident was really more laughable than annoying. To put it in perspective, when I said something about grocery shortages to my mom last year, she started telling me about butter rationing in World War Two. Even with all the disruptions from the pandemic, we are very lucky to be living in modern times.